During a recent trip around South East Asia, I was fortunate enough to be able to spend a day and a night in Singapore, it has been a very long time since I was there and many things have changed. Probably the biggest change is the development of the Singapore Marina Bay area, and the iconic Marina Bay Sands building. My plan was to head down to the marina bay area and shoot some cityscape images, however whilst I was scouting out good places to go, I found out that my trip coincided with the full dress rehearsal for the
Singapore National Day Parade 2012 (NDP2012). The actual national day for Singapore is the 9th of August, but the dress rehearsal included fighter jets, helicopters, gunboats and one of my favorites fireworks. So I headed down to the marina early to get a good spot as I knew there would be a lot of people around. As it turns out another 30 or so photogs also thought that the spot I had chosen was a good one, and I ended up surrounded (When an event like this is happening, planning and getting into place as early as possible is key to getting the spot you want). I talked with a few of the people there and they were all keen photogs with a couple of small photo clubs around. I set up with my camera perfectly level (using a hotshoe bubble level) so that the buildings would stand up straight and with a wide enough lens that the fireworks would be captured in the shots as well. The camera was set up for a hyperfocal distance focus as that would give me the best chance of capturing everything in focus, and I switched the aperture between f11 and f22 adjusting the shutter speed to give about 1 stop under exposure for the landscape, then letting the camera capture the fireworks in that setting.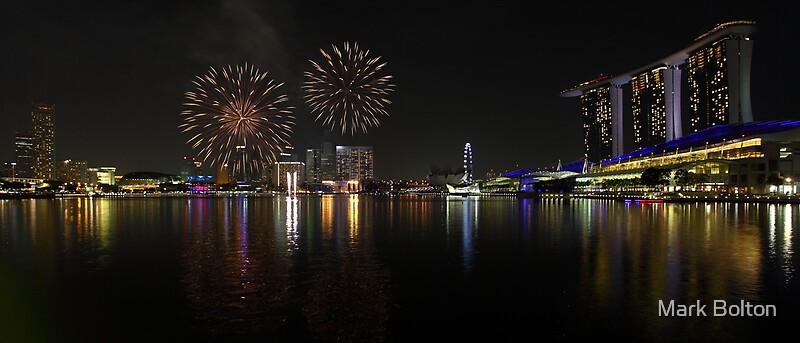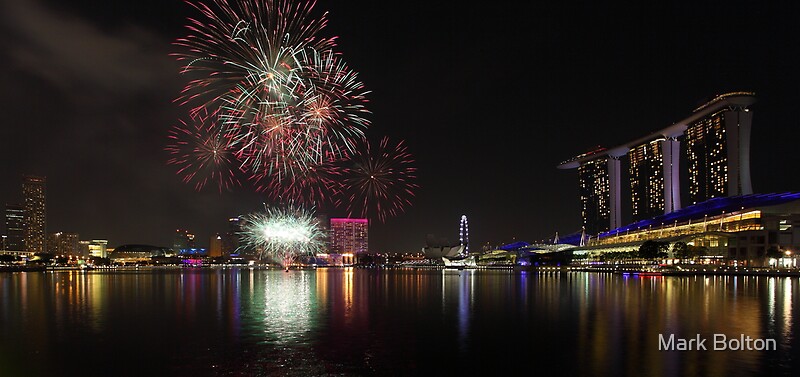 After the fireworks had finished I was then able to wander around the marina bay area and capture some images of the beauty of the area at night.