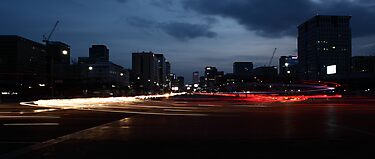 Seoul Night (Click Image to view Larger)
Seoul at Night
Often the time a city really comes to life is at night, for me I love night photography and playing with the light, apart from the fact that most of the time I am doing my day job during daylight hours, even when I have spare time I will wait for the twilight so the colours come alive both in the sky and in the buildings. The image above is taken from in front of the Gwanghwamun Gate looking down into Seoul, I loved the way the traffic bent around the end of the central plaza, so I decided to
do some long exposure shots to use the car lights to paint the picture. Night photography gives you chances to photograph well known areas without having the clutter of everyday life such as pedestrians or cars in the scene as the longer exposure times normally means that they will move and that they will not be seen in the final exposure and lights from moving objects can be used as lead in lines to the main subject.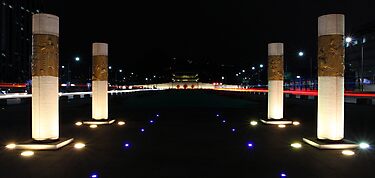 Gwanghwamun Gate (Click Image to view Larger)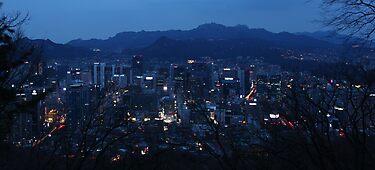 Downtown Seoul  (Click Image to view Larger)
Often the best time to do a cityscape is at twilight or sunrise, as you are less susceptable to the normal city haze that can make the image all slightly grey.
Seoul's Streets also come alive at night.
Gwanghwamun Gate (Click Image to view Larger)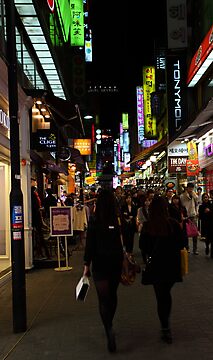 Seoul's Streets come alive at night (Click Image to view Larger)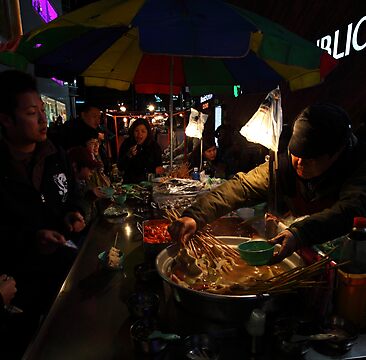 Seoul Food (Click Image to view Larger)
24hrs in Seoul - Part 1 - Somewhere to Stay
24hrs in Seoul - Part 2 - Korean Palaces